7 minuten durende documentaire Halo 3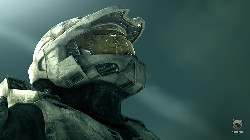 Hij is er dan, inmiddels verschenen op de Xbox Live Marketplace, de nieuwe Halo 3 documentaire!
Duidelijk vermeld bij deze 7 minuten durende trailer moeten wij vermelden dat het gaat om een "work in progress". Dat houdt in dat de graphics die worden getoond niet de graphics zullen zijn die ook in de uiteindelijke versie zullen verschijnen. Overigens komt er meer informatie los over de Brutus, see for yourself, dat gaan wij natuurlijk niet verklappen. Wanneer de film ook op het Internet zal verschijnen zullen wij deze hier posten.
Op korte termijn zal er nog een trailer uitgebracht worden. Deze zal waarschijnlijk meer informatie verschaffen over de verhaallijn in de game.
Name: Halo 3 ViDoc "Et Tu, Brute?" Trailer (480p/720p)
Price: Free
NOT Available in: Austria, Belgium, France, Germany, Hong Kong, Italy, Japan, Korea, Republic Of, Mexico, Portugal, Spain, Sweden, Taiwan
Dash Details: In the second Bungie "Vidoc" we take a long hard look at the ferocious new antagonist for Master Chief, the Brute. Now that a tentative alliance has formed between Humans and Elites, the fighting focus of Halo 3 switches to the monstrous Brutes. These tenacious foes have improved graphically with the advent of the Halo 3 engine and the power of the Xbox 360, but more importantly, their tactics, weapons, vehicles and AI have all followed suit, making the Brutes the worthiest opponents the Chief has ever faced. See how the designers, artists and programmers set about the herculean task of replacing a fan favorite – the mighty Elite – with an unforgettably ferocious adversary. See how Brutes behave in packs and as individuals with brilliant new animation and AI. Take a first look at the new Brute graphics, weapon and armor designs and finally, get the first ever public glimpse at Halo's legendary Campaign.
De documentaire

Geef een reactie: